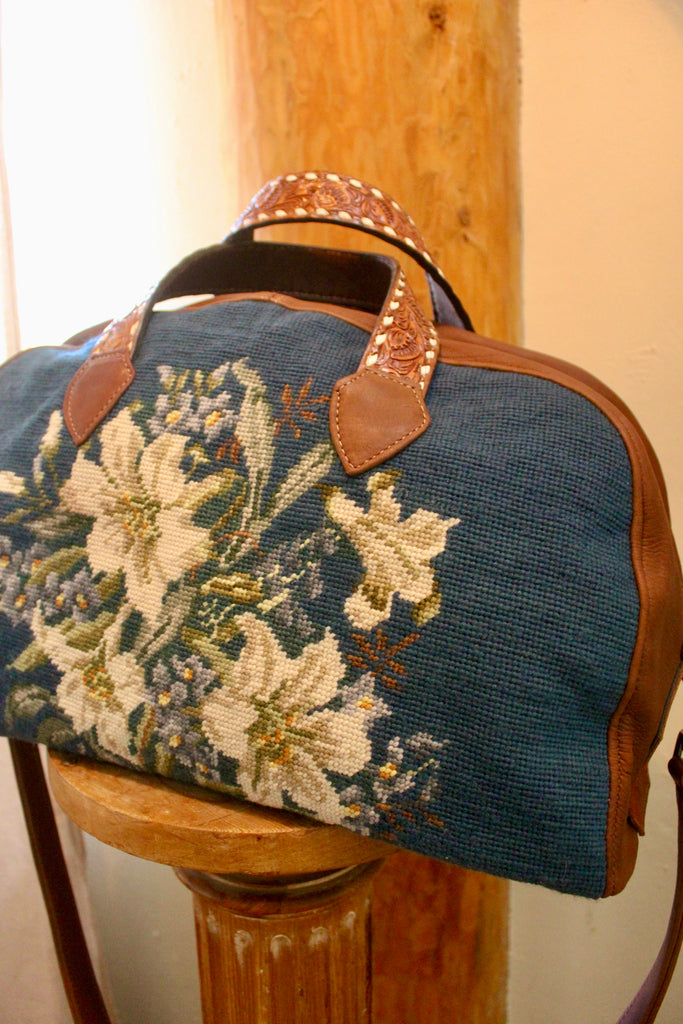 "Regal Lily" Hand Embroidered Antique Needlepoint One of A Kind Deerskin Honeywood Overnighter
Not Your Grandmother's Needlepoint!
Delightful Lilies on a Teal Background Antique Needlepoint
Incredibly Soft Wild Caught Native Deerskin
Completely Sustainable from Antique and Vintage Elements
Removable Crossbody Strap 
Antique Hand Embroidered Floral Needlepoint 
Super Pretty Vintage Hand Tooled Belt Handles
The perfect Travel Companion
Antique Block Print Cotton Textile Lining
Handmade and One of A Kind 
Inner Pocket 
Length of front ~ 20 inches across approximate
Height ~ 17 inches approximate
Width ~ 10 inches approximate with room to grow
All Measurements unstuffed
Festival/Carry On/Everyday Bag!
Made in Los Angeles.
Please Note All Elements of these bags are one-of-a-kind and repurposed right down to the vintage military zippers. There will be slight imperfections that add to the unique character and charm of the bags.