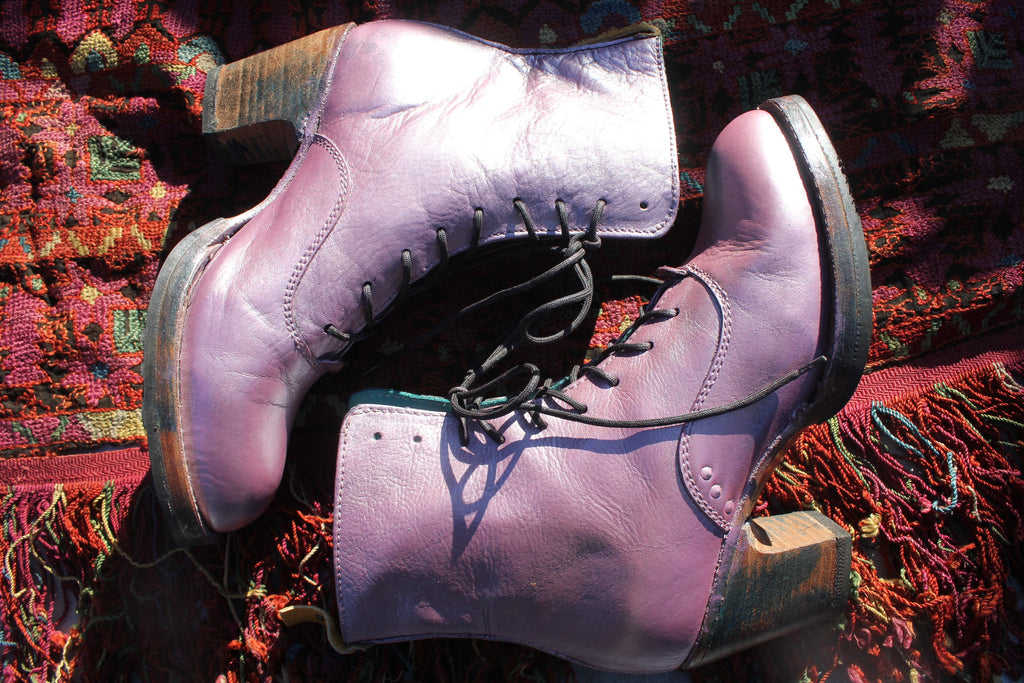 pskaufman no.0036 Hand Painted Crosswalk Ankle lace-up boot dilecta
Our Newest Obsession! We are so excited to have PSKAUFMAN Shoes and Boots join the Honeywood family! 
Victorian Sensibility Mixed with Rock and Roll Attitude
"Crosswalk" ankle lace up boot model no.0036
laces up, no help... you 'll love the 'alone' time while doin' up these boots; savor it - fit to be tied
These Beauties are hand painted and totally One-Of-A-Kind
About the "Crosswalk" introducing the crosswalk construction: inspired by the 90's... the 1890's! this construction features all the same details that make our unisex shoes one-of-a-kind: incredibly soft leather uppers and signature turquoise leather lining, hand-lasted and sewn with a leather welt and leather midsole by genuine goodyear-welt construction, then nailed in the shank area for iron-like strength. recycled tires using the lighttread (tm) process add lightweight flexibility, comfort and durability! the entire shoe is then hand-finished to ensure each shoe has it's own unique character.
pskaufman... arthropod hand-painted styles are painted with a specially formulated paint made for leather. each color option is hand-crafted by our team and is inspired by insects. the multi-step process includes a few top secret products and finishing techniques.