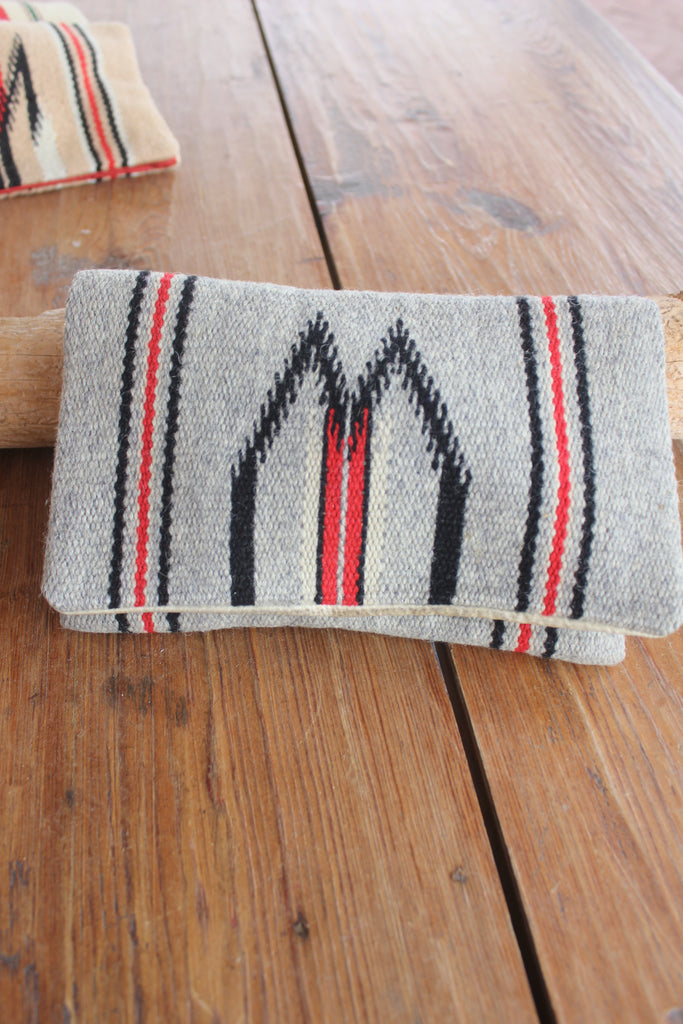 1930s Vintage Chimayo Clutch Handwoven Southwestern Grey.
 My Obsession with Vintage Chimayo pieces is Long Standing and will exist forever.
Stunning Designs and Centuries of Weaving Skill Passed Down for Generations...
Each Unique Piece is Handmade in New Mexico 
Circa ~ 1930s from a Collectors Collection
Grey Hand-woven Wool
Back Strap for Easy Hold
Inner Satin Lining 
Ball and Chain  Zipper Closure 
Size  ~ 9.5 inches x 6.5 inches
This Piece is in. great shape for it's age but it has been lovingly used. 
The Chimayo woven pieces to include the clutches each have their own story and is a highly sought out collective item.


In the early 1700s, Gabriel Ortega was among a group of settlers who came to the Northern Rio Grande Valley to settle in what is now Chimayo, New Mexico. Weaving was an essential skill for the new settlers, providing them with clothes, blankets, rugs, and even mattresses. Ortega passed along his skill of weaving to his son and a legacy was born, the Ortega family has been weaving for 8 generations. In the early 1900s, the family opened a general store in Chimayo, selling their woven goods. As demand increased, the store became what it still is to this day, Ortega's Weaving Shop