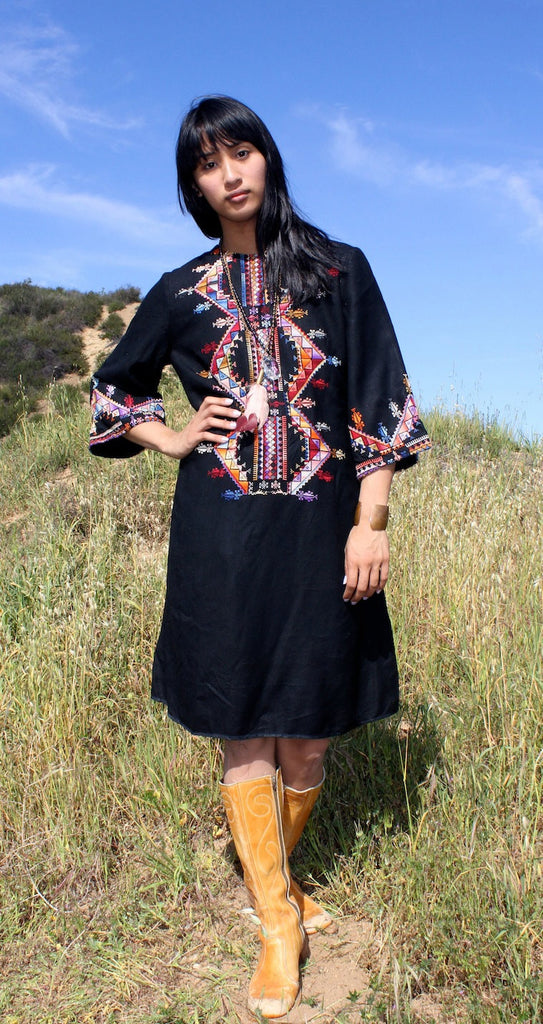 Bohemian Beauty Cross Stitch Bedouin Dress
"Bedouin" from the Arabic "Bedu" - "the desert dwellers"
WOW!
Magnificent 1940s Handmade and Hand Embroidered Dress
This Piece takes my Breath Away....
Insane Detailed Cross Stitch Needlework of Oriental Design
Gorgeous Heavy Rayon Gabardine (I think...)
3/4 Sleeves with a slight Flare
Lined
Circa ~ I'm guessing because of the amount of work, the cut and quality of the fabric this piece is from the 30s/40s.... Gorgeous Dress!
Bohemian Beauty at it's finest! This piece is a one of a kind work of Art!
This piece is in excellent condition. Embroidery is EXCELLENT. 
Bust ~ 19 inches (from seam to seam or 38 total approx)
Length ~ 39 inches
Model is 5'5" and wears a 3/4.